SEA Games 31 fuels recovery of local tourism industry
26/5/2022| 21:00
The hosting of the recent 31st Southeast Asian Games (SEA Games 31) between May 12 and May 23 can be viewed as a golden chance for the local tourism industry to recover after months of little activity due to the impact of the COVID-19 pandemic.
 Many groups of tourists flocked from central and southern regions to Phu Tho to view the football matches, enjoy sightseeing, and relax at its popular destinations such as the Hung Kings Temple relic complex, Hung Lo ancient communal house, Xoan singing village in Viet Tri city, and Xuan Son National Park that specialises in community eco-tourism.
"The 31st SEA Games is a very good opportunity to introduce Phu Tho - the ancestral land of the Vietnamese nation – to visitors, especially international guests, athletes and coaches," said Nguyen Duc Hoa, director of the Phu Tho Tourism Promotion and Information Centre.
"After the regional sporting event, Phu Tho will continue to participate in activities of the Vietnam National Administration of Tourism to attract international visitors from Southeast Asian countries," he added.
Meanwhile, major tourist attractions in the northern province of Nam Dinh that played host to football fixtures in Group B were widely introduced to international visitors. Do Quang Trung, deputy director of the Nam Dinh provincial Department of Culture, Sports and Tourism, said that international visitors were impressed with the beautiful scenes, delicacies, accommodation services, and especially the enthusiasm and hospitality displayed by local people.
Despite facing a busy schedule, players from Laos' U23 side spent time visiting and resting at Thinh Long beach before returning home. International referees and supervisors also took time to travel to Hung Nghia Temple and admire a 'falling church', a tourist attraction which is located next to Hai Hau beach.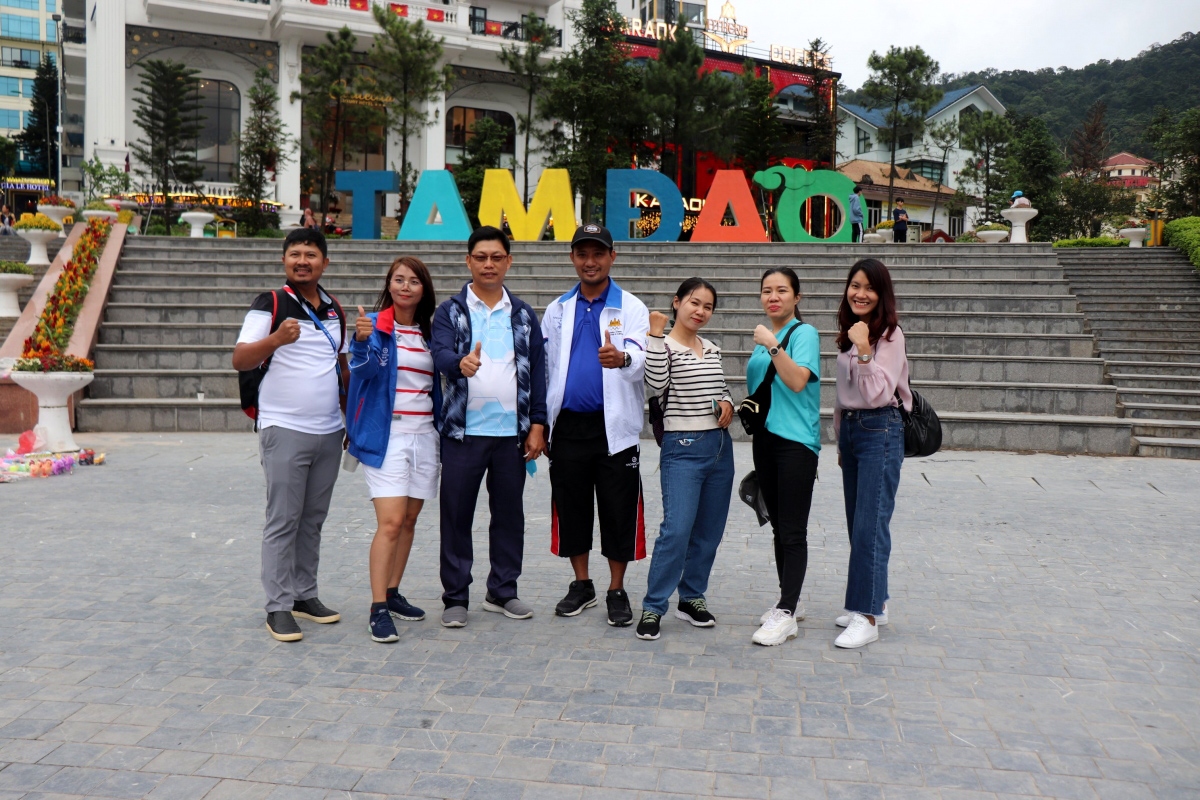 International referees, coaches and athletes are eager to discover the ins and outs of Tam Dao tourist resort in Vinh Phuc.
Furthermore, several major destinations in Vinh Phuc province also left a positive impression on coaches, referees, and athletes competing in Muay and Golf. Indeed, four groups of guests numbering over 110, including those from Malaysia, Cambodia, Thailand, Singapore, Indonesia, the Philippines, the UK, and Turkey, made tours of the most famous tourist attractions, namely age-old Tay Thien pagoda, Tam Dao tourist resort, and Dai Lai lake.
"SEA Games 31 helped popularise the image of Vinh Phuc tourism more widely, and we hope to receive more international tourists in future," said a representative of the provincial Centre for Tourism Promotion and Information.
Taking advantage of opportunities from SEA Games 31, the northern province of Hai Duong erected tourism pavilions at its competition venue from May 13 to May 20, with the aim of welcoming roughly 25,200 visitors. The locality also formulated three typical tours during the regional event to discover the Chu Dau age-old pottery making village, Con Son - Kiep Bac historical relic, and Chi Lang Nam stork island.
Hundreds of referees, coaches, athletes, and volunteers enjoyed these tours, according to the Hai Duong provincial Department of Culture, Sports and Tourism.
As the major venue for both the opening and closing ceremonies and key sports, Hanoi welcomed nearly 700,000 local tourists and more than 31,400 foreign visitors during the event. Leaders of the Hanoi Department of Tourism affirmed that SEA Games 31 was an extremely valuable opportunity for the local tourism industry to push forward and accelerate the recovery process.
"The promotion of Hanoi's image has achieved the set goals, leaving a good impression on participating sport delegations, athletes, reporters and international tourists. The event has again elevated the image of Hanoi as the destination for organising international and regional events," said a representative of the municipal Department of Tourism.
It can be seen that the sharp increase in visitor numbers and the powerful effects of SEA Games 31 gave local travel businesses the opportunity to ramp up their recovery process. Vietravel Airlines, the official airline for the sporting competition, transported hundreds of athletes from central and southern regions for competitions in the north. In addition, leading travel firm Vietravel also served 1,800 tours for spectators who watched football matches and then travelled to scenic spots.
By successfully organising the largest regional sporting event, Vietnam is expected to continue to be an attractive tourist destination both regionally and internationally moving forward.
VOV